Reclaimed Dalle de Bourgogne Second Face
Limestone — France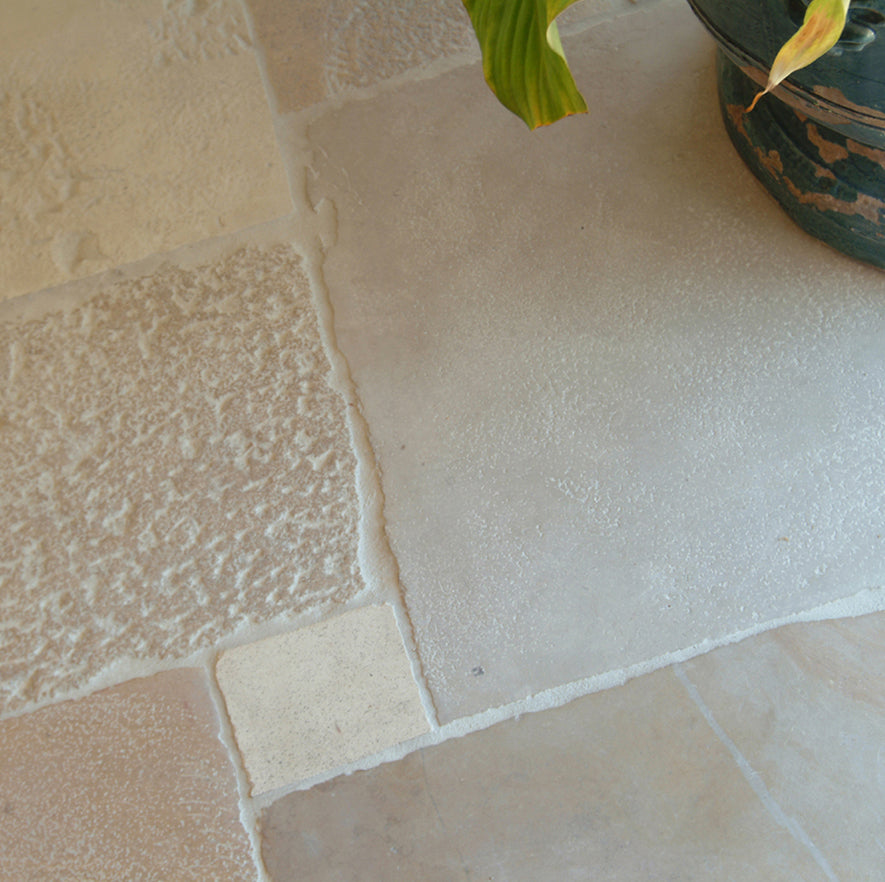 The second cut of the antique Dalle de Bourgogne limestone, originally quarried in the Bourgogne region of France. With a finished surface that has been redistressed, it offers rich, rustic characteristics and a wide variation of colors and textures.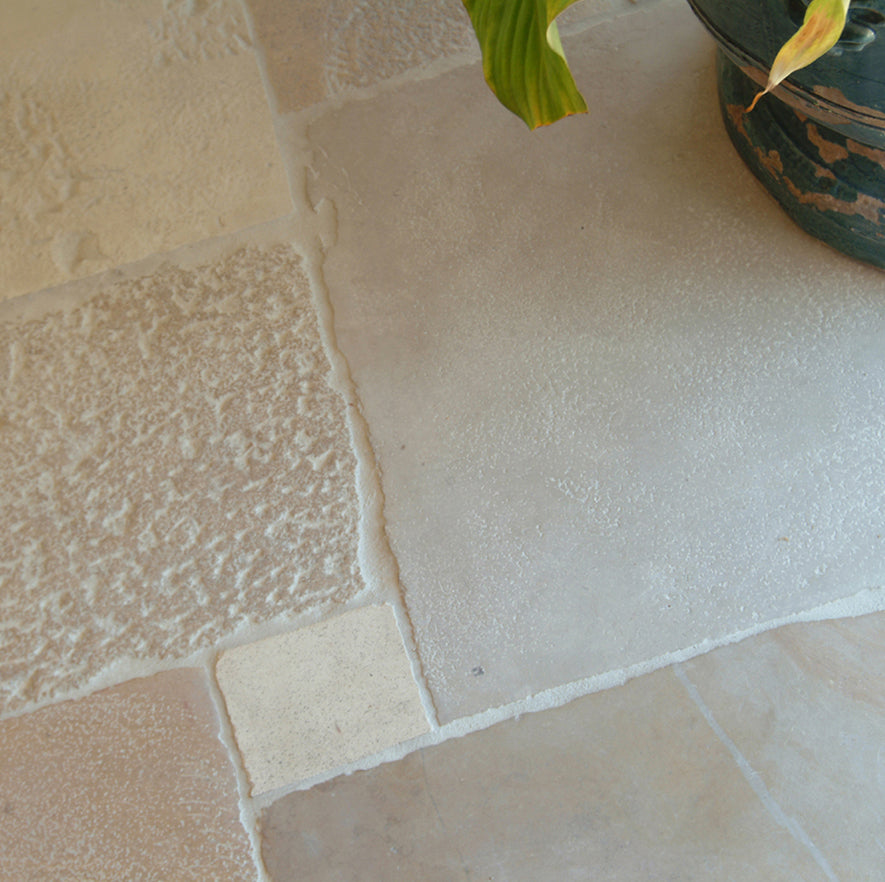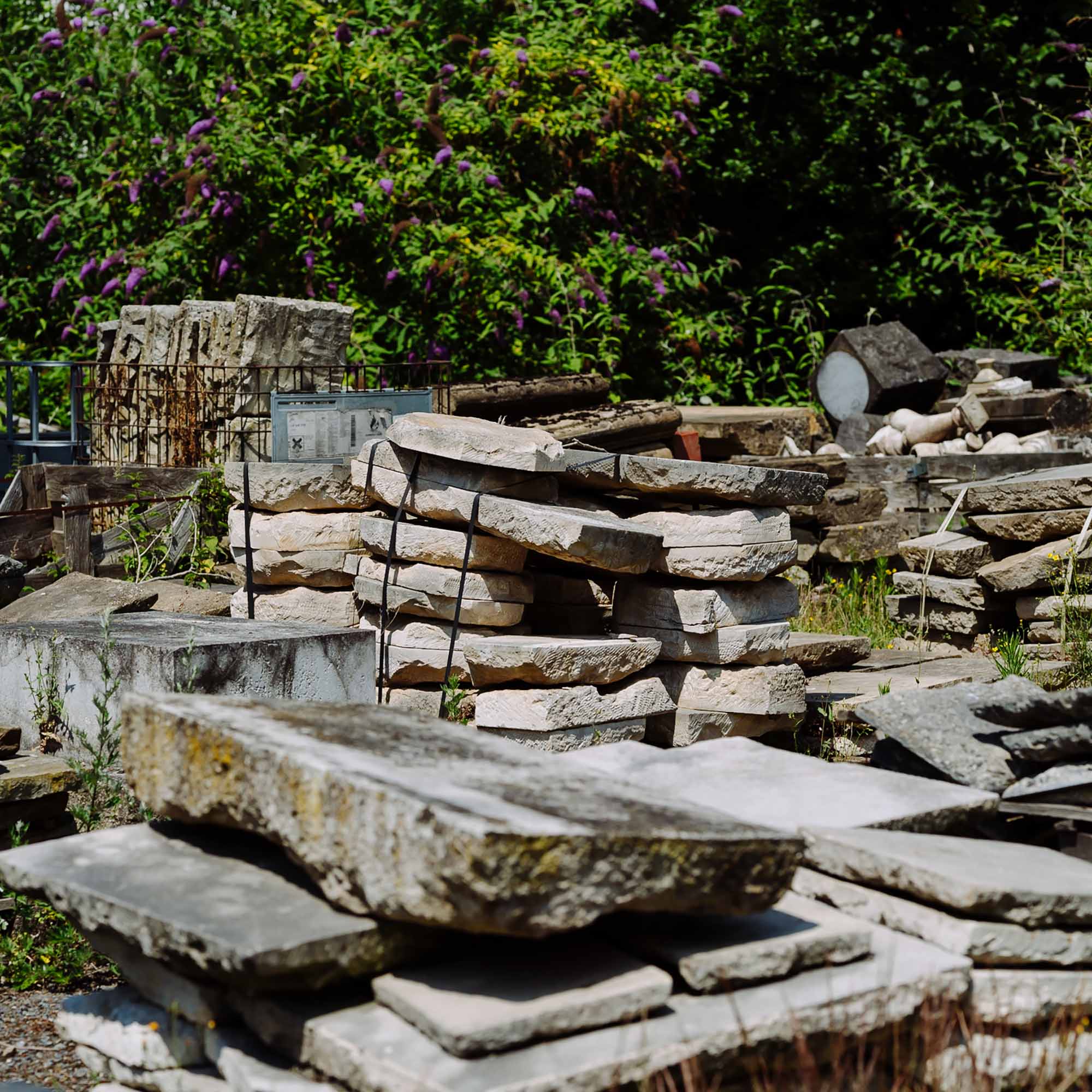 A History of Quality
A uniquely variegated antique limestone, Dalle de Bourgogne is salvaged from locations throughout Burgundy, France. With its abundance of distinct natural limestone deposits, this world-renowned wine region has an equally rich quarrying history. The Second Face is cut from the middle section of the characteristically thick Dalle de Bourgogne. This cut freshly reveals an even starker contrast of color and textural variations within the natural stone. Each piece is individually restored and inspected for both quality and authenticity. Once measured and cut to order, the stone's surface is subtly distressed to fully recapture its reclaimed character. Sometimes installed in a mix with the First Face cut, the Second Face highlights the interior beauty of the Dalle de Bourgogne, while allowing us to use every usable part of this incredible limestone.
Why do we love it?

The rich colorations, high variability and distinctively rich patina.
How does it look?

With its high variation and redistressed finish, Reclaimed Dalle de Bourgogne Second Face brings subtle rusticity and charm to any new installation.
How does it wear?

After centuries of use, minor to moderate additional wear can be expected, further enhancing its characteristically deep patina.
Where can I use it?

Reclaimed Dalle de Bourgogne is suitable for indoor and outdoor use in warm climates and high traffic areas.
Reclaimed Dalle de Bourgogne Second Face
Download Specs
For additional information about this product's usage guidelines, available stock, pricing and lead times, please contact our sales team directly.
Variation disclaimer
Because of the individualized nature of the materials we sell, many of the products have significant variation in size, shape, color, texture and thickness. These irregularities are inherent in hand-made and natural materials such as ours. It is the responsibility of the owner/purchaser and those acting on behalf of the owner such as the designer, architect, contractor or installer to verify that the material specified is appropriate for its final application and to review and approve all materials before the materials are shipped. Samples are available on request. Samples are given as an indication of a particular product and are for reference only. Due to the inherent variation in the size, shape, thickness, texture and color of our materials, individual samples cannot be considered exact representations.
Through expert photography, every effort has been made to faithfully represent our products and materials on this website. However, due to lighting and color variations, no picture can be considered an exact representation of the material being shown.