Manoir Premiere Cognac
French Oak — Belgium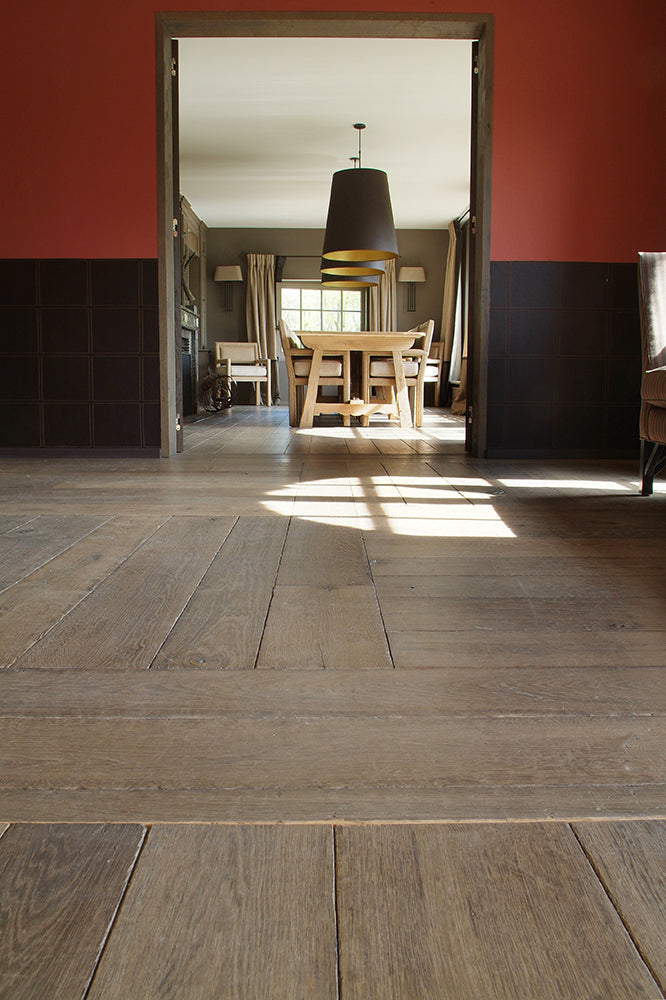 The Manoir Premiere Collection offers French oak in a variety of rich color options. Available in two distinctive surface finishes, brushed or distressed, Manoir Premiere Cognac has a uniquely weathered surface and a rich, medium brown and honey coloration reminiscent of French Cognac.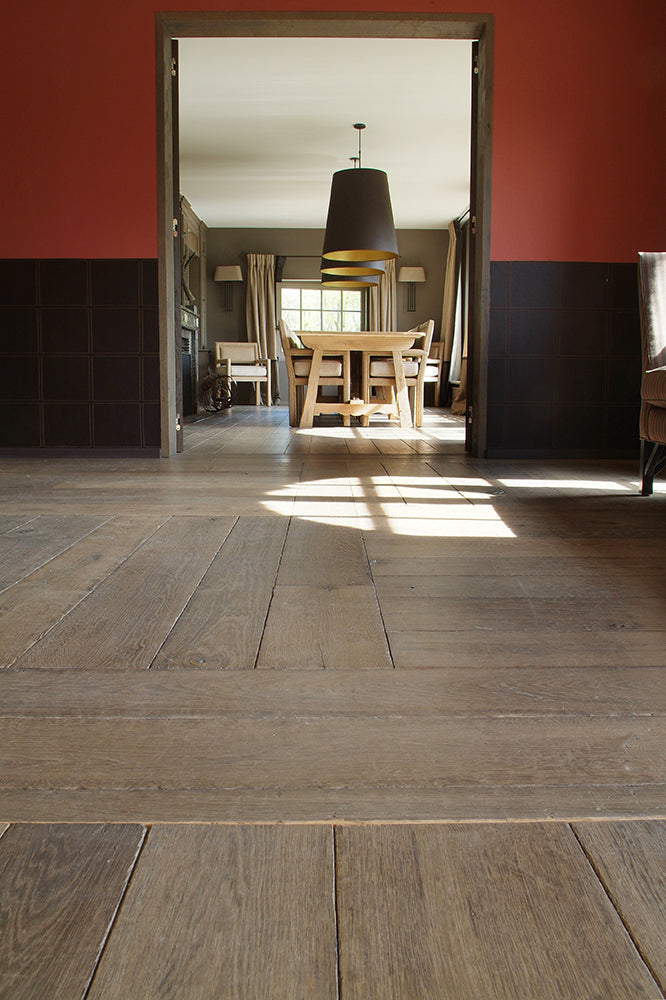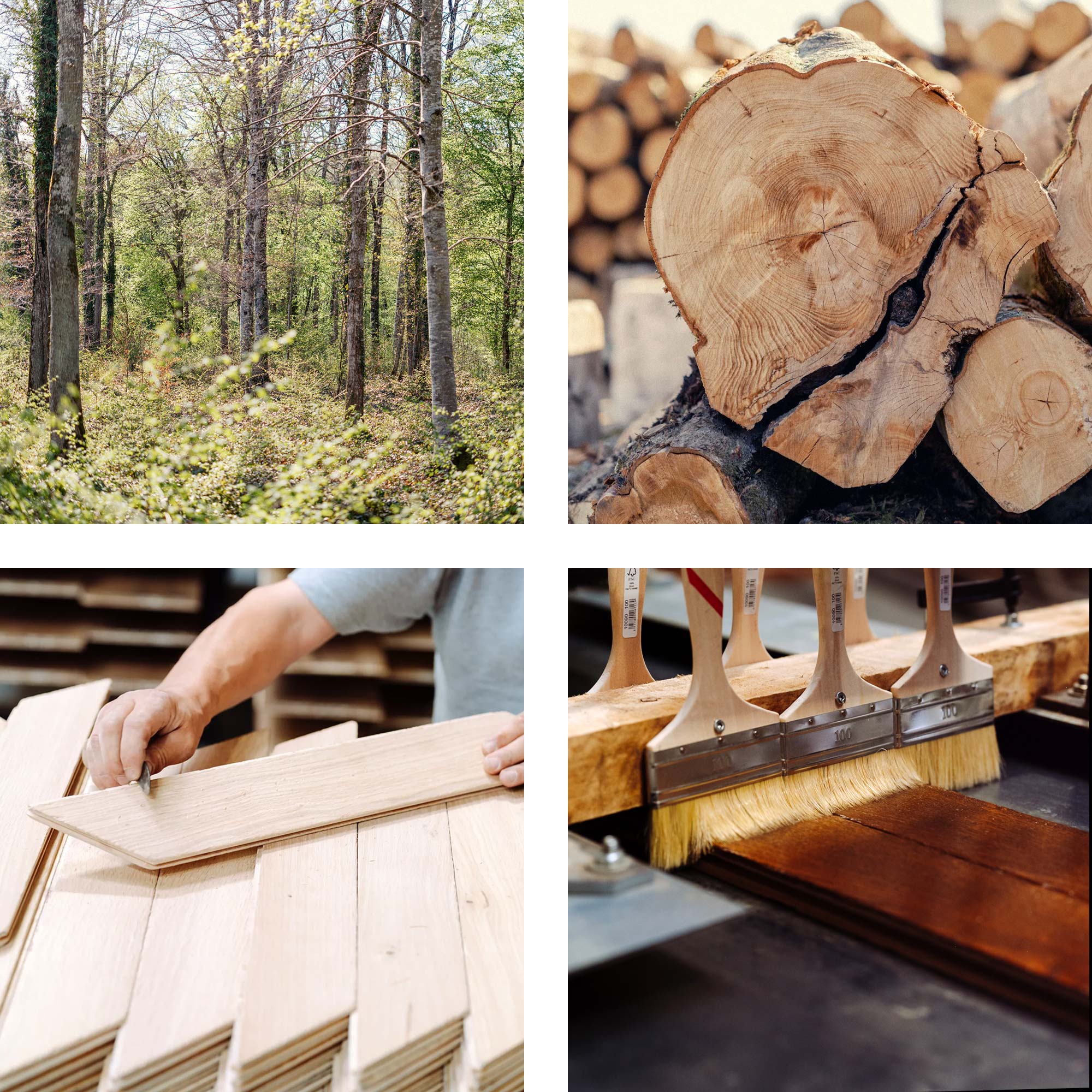 A History of Quality
The raw oak in the Manoir Premiere collection comes from forests throughout southeastern France. The particular climate in this region yields remarkably large, straight logs with a characteristically tight wood grain. The areas are carefully maintained by forest managers, and trees are only harvested once they reach their full maturity, approximately 150 years. The areas are then repopulated with new plantings to ensure the future health of the forest. After fabrication, the planks are transported to Belgium to be hand-finished individually. The rich hues in this collection are achieved using a reactive oxidation process that naturally transforms the color of the wood without the use of synthetic dyes or pigments.
Why do we love it?

The classic appeal of traditional hardwood with unparalleled vibrance and dynamic color variations.
How does it look?

Manoir Premiere Cognac is full of depth and character, with warm, nuanced brown and honey color tones, rich grain and a distinctive weathered finish.
How does it wear?

Minor to moderate wear can be expected over time, depending on traffic. Wood discoloration is inherent with consistent exposure to UV rays.
Where can I use it?

Suitable for indoor use in moderate and high traffic areas.
Product Information
Manoir Premiere solid planks come in a standard range of lengths and 3 standard widths. A single plank width or multiple plank widths may be selected per order.

Manoir Premiere engineered Planks are available in two size ranges: Medium and XL. Each size comes in a standard range of lengths and 3 standard widths. Any single plank width or multiple plank widths within the same size range may be selected per order.

Manoir Premiere is available in a Premium wood grade that features a majority of sound knots up to 1" (25mm) and filled knots up to 3/4" (19mm).


Manoir Premiere Cognac
Download Specs
For additional information about this product's usage guidelines, available stock, pricing and lead times, please contact our sales team directly.
Variation disclaimer
Because of the individualized nature of the materials we sell, many of the products have significant variation in size, shape, color, texture and thickness. These irregularities are inherent in hand-made and natural materials such as ours. It is the responsibility of the owner/purchaser and those acting on behalf of the owner such as the designer, architect, contractor or installer to verify that the material specified is appropriate for its final application and to review and approve all materials before the materials are shipped. Samples are available on request. Samples are given as an indication of a particular product and are for reference only. Due to the inherent variation in the size, shape, thickness, texture and color of our materials, individual samples cannot be considered exact representations.
Through expert photography, every effort has been made to faithfully represent our products and materials on this website. However, due to lighting and color variations, no picture can be considered an exact representation of the material being shown.